Different Uses for Concrete
Concrete is a material that is very familiar to most of us. It's a basic building block for our homes and other types of buildings. You may not realize the full scope of this material's versatility, however, unless you consider the various uses for concrete.
The Importance of Concrete
Concrete is an important building product. Consider these facts and figures to appreciate its contribution to the construction industry and our everyday lives:
The concrete industry produces approximately 10 billion tons annually.
It is used more than any man-made product in the world, and it's the second most consumed product in the world, next to water.
The concrete industry is worth $37 billion per year. More than two million people in the United States have jobs in this industry.
Concrete has been used as a building material for thousands of years. The oldest man-made concrete mix dates to approximately 500 B.C.
Concrete weighs about 3800-4000 lbs/yd3. This material gets stronger as it ages.
Advantages of Using Concrete
Concrete has several advantages over wood as a construction material. Wood may degrade over time and with exposure to the elements. Concrete, however, is a durable and cost-effective building material that is also a sustainable choice for residential and commercial projects.
This building material is very familiar to designers, engineers and building contractors alike. This fact has allowed construction techniques to change and evolve over time to utilize the many advantages of concrete. Here are some of them:
Its strength increases over time
A building project made from concrete will stand the test of time by reducing the need for rebuilding. It holds up well against weather conditions and is easy to maintain. From a buyer's point of view, a building made with concrete adds up to a good investment.
It's budget-friendly
Eighty-five percent of a commercial building's operating energy impact will come from use over its service life (approximately 75 years). The other 15 percent stems from material production, demolition and transportation. In the case of residential construction, operating energy can jump as high as 95 percent of operating energy use in a single family home.
A sustainable concrete building can provide a savings of 20 percent or more of the construction cost. The results of a study conducted by the University of British Columbia found that concrete buildings yielded close to 60 percent savings over older building designs that did not integrate "active energy systems" with concrete's thermal mass effect.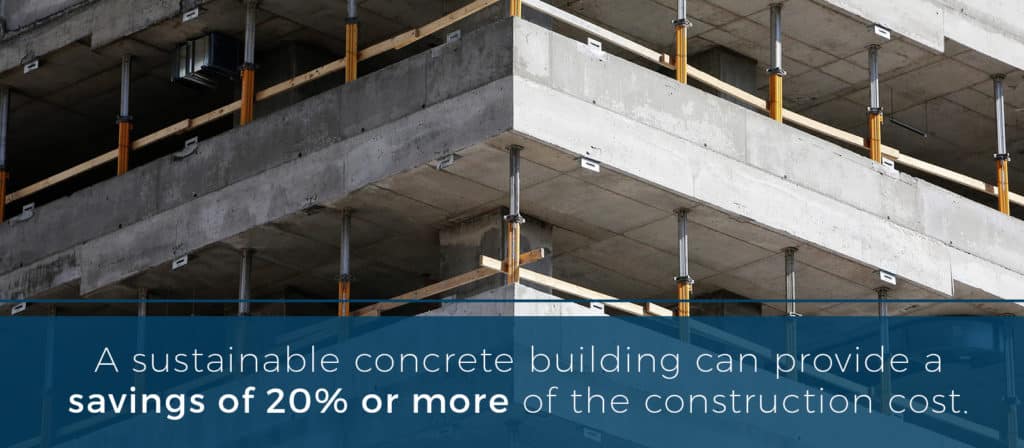 It's safe for building occupants 
Concrete is an inert building material and doesn't burn. It doesn't mildew or feed rot, either, which makes it an excellent choice if your goal is to avoid construction materials that can trigger occupants' allergies. In addition, concrete helps to prevent airborne allergens such as pollen and dust from entering homes and commercial buildings.
Concrete doesn't off-gas any organic compounds, either. Off-gassing refers to the release of chemicals from man-made materials used in home and building construction and manufacturing, and this, along with the allergen reduction, may have a beneficial impact on the quality of the indoor air.
Concrete's superior structural integrity also provides an added degree of protection from severe weather as well as earthquakes. Concrete provides a high level of protection to building occupants from the effects of variations in temperature, too, which means the home or building's interior will be comfortable and draft-free on a year-round basis.
The building's atmosphere will be a peaceful and quiet one from the use of concrete to fashion the walls and floors. In commercial structures, concrete provides a sense of privacy and promotes professionalism — which is, of course, considered a positive feature in a business setting. For residential construction, concrete walls and floors help to make a home a quiet place of rest, relaxation and rejuvenation.
It's sustainable
Consumers are becoming more interested in sustainable building products, and builders are looking for products that will leave the smallest environmental footprint, while still providing a high level of durability. Concrete is produced from locally-available materials and leaves a small environmental footprint.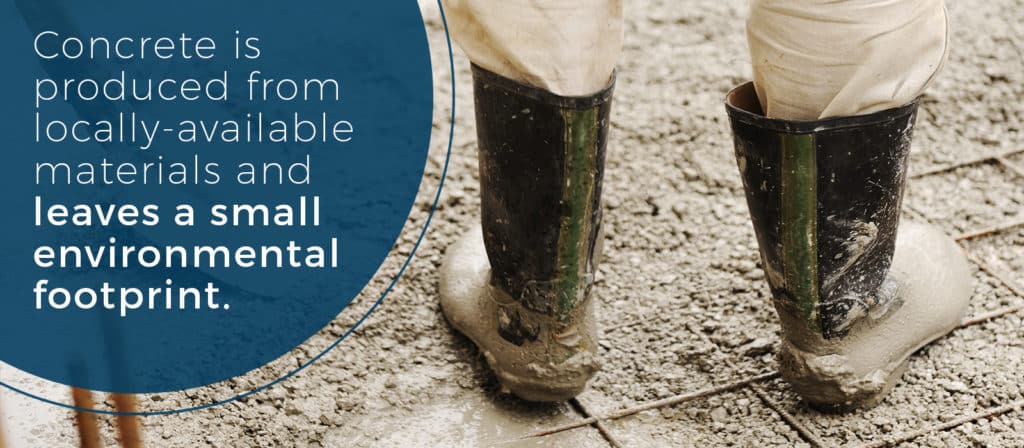 Materials used to produce concrete include industrial byproducts and waste materials that would otherwise end up in landfills. Used concrete can be recycled — it is used as aggregate in roadbeds or as granular material when making new batches of concrete.
It's fire resistant
Concrete is also highly regarded as a building material due to its fire resistance properties. Choosing it for a construction project means increasing the safety and protection for the home or building's occupants. They benefit from this choice of building material, for obvious reasons. The owner benefits as well, since insurance costs may be lower if there is less risk of fire in a concrete building.
The facts about concrete's fire resistance include the following:
Concrete doesn't burn and may help to contain a blaze by stopping a fire from spreading to another floor.
It acts as a shield during a fire by providing a safe route to safety for the building's occupants, along with some protection for firefighters.
Concrete can resist extreme levels of flames and heat, which makes it an excellent choice for the walls and ceiling of a storage room or facility for products or items with a high fiber content.
Concrete doesn't produce any smoke or gases, which may be toxic to occupants as well as to firefighting personnel. It also doesn't drip any molten particles, which can be responsible for a fire spreading.
Its strength makes fighting fires easier and lowers the risk of a floor or building collapse.
After a fire has occurred, concrete is easy to repair. It is not affected by the water used by firefighters to put it out.
Uses of Concrete in Construction
Concrete is the most commonly used construction material on the planet. It can be formed into various shapes when freshly mixed, and then hardens into a very strong substance. How is concrete used in this industry? Let's take a look at a few areas:
Residential
Unlike wood frame buildings, concrete doesn't burn. However, once a fire starts in a residential property, such as townhouses, condominiums, multi-family units or single family homes, it can spread very quickly, with the potential to cause a large amount of property damage.
Concrete is a safer option, since it will stand up very well to fire and to heavy weather. It also does not rot and is not sensitive to moisture. Here are some other benefits to using concrete in residential construction:
Concrete doesn't release any VOCs, or volatile organic compounds, into the air. These are compounds that are found in household items like paint, sealer, carpeting, cleaners and more.
Once VOCs are present in the home, they release gases into the interior environment. You may or may not be able to smell them — scent alone is not an indication that VOCs are present. Exposure to VOCs, though, may cause some people to experience health problems, such as eye or nose irritation, headaches and dizziness and even worsening asthma symptoms.
Choosing concrete as a building material means you are getting a longer service life. It's less likely to need repair than wood, which conserves resources and keeps costs down over the life of the building.
It doesn't attract insect pests and rodents in the same way that wood might. Using concrete for floors and walls means that issues like termites and carpenter ants will not be a problem. Small animals will not be able to burrow through concrete in the fall looking to make a home for the winter, either.
Concrete requires less maintenance than an exterior wood facade. Once it is installed, you have a low-maintenance exterior that will need to be washed occasionally. Wood needs to be painted or stained every few years to keep it looking its best. If you have surfaces that need to be painted, be prepared to do a proper job prepping the surface, which includes scraping, sanding and cleaning, as well as priming, before you can repaint it with two coats of your top coat color. Unless you enjoy spending time and money on these tasks, you'd be better off opting for a low-maintenance exterior.
Commercial Buildings
Concrete is available in a wide range of colors and finishes, which means it can be used in a wide variety of commercial building projects. Here a few ways professionals can put concrete to use: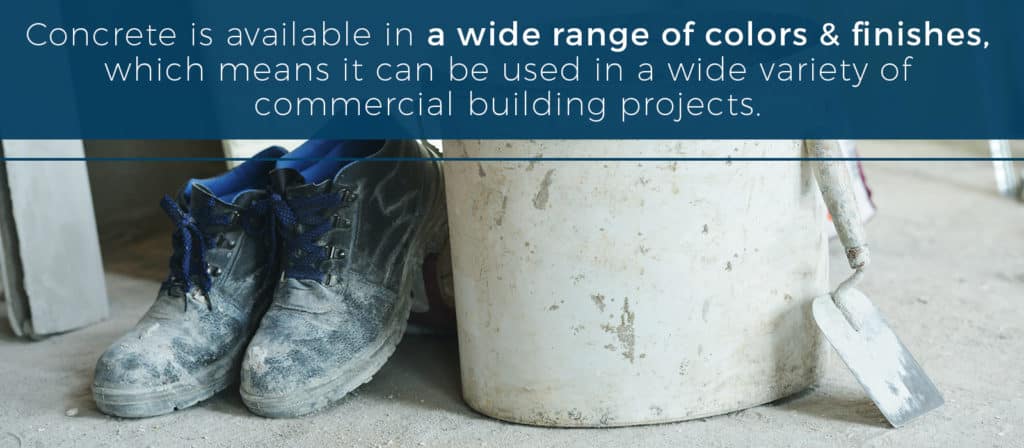 Architects can consider it for its multiple design possibilities, energy efficiency and cost effectiveness.
Engineers also appreciate concrete as a building material. It can be used to achieve optimum environmental and energy performance. Commercial building designs that make the most of concrete's structural integrity have resulted in recognition through a number of award-winning projects.
Developers appreciate that concrete provides a competitively priced building material that offers long-term benefits, including energy efficiency and lower overall maintenance costs. Since concrete is recyclable, there is the possibility for reusing the original building materials for additions — if, for instance, the occupancy of the building was to change over time.
Investors seeking to buy commercial properties can rest assured that buildings constructed from concrete will have curb appeal for tenants and visitors, as well as be cost effective to run. The building will be low maintenance and be highly energy efficient due to the concrete's natural property of retaining heat.
Culverts and sewers
Concrete is the material of choice for culverts and sewers. Concrete is strong and durable, which is a necessity for underground use.
Bridges
High-Performance Concrete (HPC) is used to build bridges that are extremely durable and require very little maintenance. This type of concrete is so strong that the bridges built with it can last for a century or more.
When a bridge needs to be replaced, it's possible to have a replacement in less than a day. The new bridge is prefabricated near the existing bridge. When it's ready to be installed, traffic is temporarily rerouted away from the site. The old bridge is lifted out, and the new one is installed in its place.
Concrete dams
An application that shows the capabilities of concrete is a dam. It takes something with extreme strength and durability to stop the flow in a body of water. Some styles (gravity dams and buttress dams) use the weight of the concrete as the basis of their strength, while others, such as arch dams, rely on their ability to squeeze between the two banks to hold up against the weight of the water.
Concrete is able to accommodate steel reinforcements and gates, tunnel liners, rubber waterstops, electrical controls and wiring, plastic joint-filling compounds to keep water out, valves, siphons, power generators and various instruments.
Uses for Concrete in Your Home
Concrete can be used for a number of purposes in and around your home, for both interior and exterior applications. The following are examples of some common uses of concrete in a house: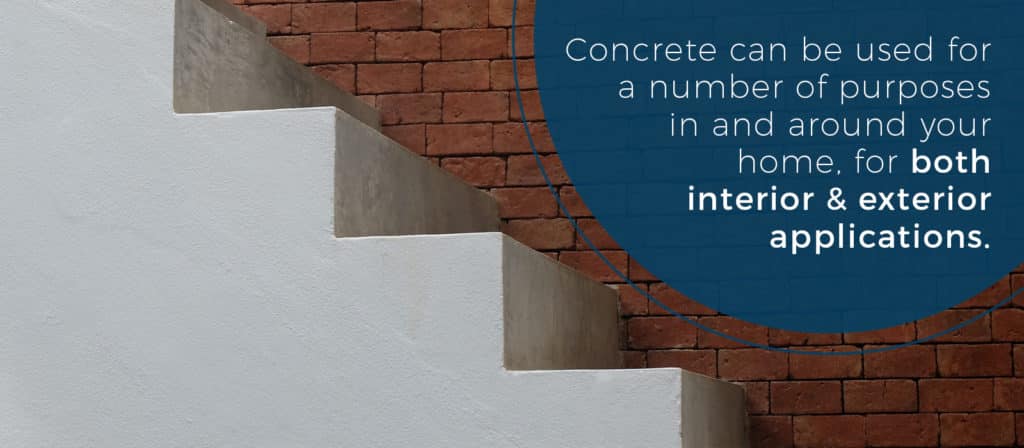 Flooring material
Concrete is being used for more than flooring material for the garage. Concrete floors can be polished or stamped to create an attractive, low-maintenance surface throughout a residence. Caring for a concrete floor is a simple matter of mopping it occasionally with soapy water.
Countertops
You can get a unique look for your kitchen or bathroom countertops by having them made out of concrete. This material can also be used to create a durable and attractive finish for your outdoor kitchen — it's the perfect choice if you plan to spend a lot of time outdoors entertaining during warmer months.
Sink
A concrete sink is a unique item, and in most instances, it will be molded right into the countertop as a single unit. These heavy and extremely durable items will last for many years when taken care of properly. The only maintenance they will need is to be sealed occasionally.
Tabletop
Having a tabletop fashioned out of concrete is a way to ensure it will last for years. You can, of course, add a unique touch to your indoor dining room with a concrete table, but you may want to consider having an outdoor table top — or even a complete table — made out of concrete as well. It will be able to stand up to all types of weather.
Accessories
Concrete can be used to make small items used around the house. Consider accenting your table with a bowl, candlesticks or napkin rings made from concrete to create a one-of-a-kind look. This material is available in more than just the standard "stone" color, too, which means you can find it in interesting marble stripes, as well as several tones to match the other shades in your decor.
Fireplace
A concrete fireplace surround gives you an interesting alternative to wood or metal. It can be polished to give a hint of color. It can also be left as its natural tone, or you can paint it to match the surrounding wall.
Concrete can also be used to make a freestanding fireplace. The material can be strengthened with steel wires and fashioned into round, oblong or alternate shapes if you would prefer an alternative to the standard, square fireplace.
Stair treads
If you have an open staircase, consider having the stair treads made from concrete. This material makes an interesting contrast to a wood or metal frame, and the treads will be durable for many years.
Interior wall finish
If you want your interior walls to have an industrial look, have them finished with concrete. You can paint them after the concrete has been applied if you want to achieve a brighter and warmer ambiance.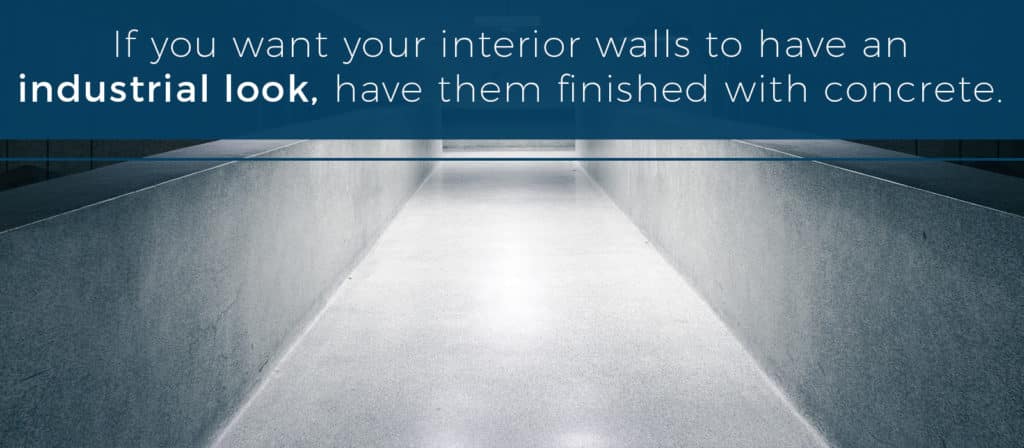 Decorative walls and beams
Would you like to add interest to your walls, but you're looking for a material other than stone? Decorative concrete products are available that look and feel like stone. You can also find concrete that has the look and feel of wood to create interesting beams or borders.
Patio
You can have a concrete patio installed using polished stones or slabs in your backyard. The look can be customized to suit any size or pattern you wish to make, including round, oblong or kidney-shape. You can also choose a square or rectangle with sharp or rounded edges or create a custom shape to accommodate a fire pit, flower bed or pool.
Porch
Upgrade an existing porch that looks as though it has seen better days with a layer of polymer modified cement. You can have this work performed without damaging your home's existing facade, and it will give your entrance a neat, streamlined appearance.
Fire pit
Concrete is a popular material for making a fire pit, either as a part of a patio design or as a standalone item as part of a backyard living space. Once installed, you extend your outdoor entertaining season into the late fall, and you can start it earlier in the spring. With the fire for light and warmth, it's much more pleasant to be outside on cooler evenings to enjoy spending time with family and friends.
Pool deck
This material is the one often chosen to make pool decks. It can be made with a slight gritty texture to make the surface of the deck less slippery when wet. Additionally, since concrete is easy to keep clean, it can simply be rinsed off to get rid of dirt as needed.
Water feature
With backyards being a potential additional room of your home, consider making it even more attractive with a water feature or a decorative pond. Concrete is an excellent choice for this type of addition. Once it's installed, you will have a place to go after a long day at work or school where you can relax and unwind.
Planters
Concrete planters make a permanent addition anywhere you would like to plant flowers, small shrubs or ornamental grasses. They won't rot over time like wooden planters, and they can be formed with decorative borders or other embellishments to complement your home's style.
Privacy screen
An outdoor privacy screen made of geometric designs may remind you of something that was popular in the mid-part of the last century, but it's an option you can use to control who can view areas of your property — and it doesn't require the same amount of upkeep as a wood fence. It also has a more attractive appearance if you require some privacy screening along the front of your home.
Driveway
Upgrade your driveway from asphalt to concrete stone. You can choose from a number of different patterns to create an attractive look and increase your home's curb appeal.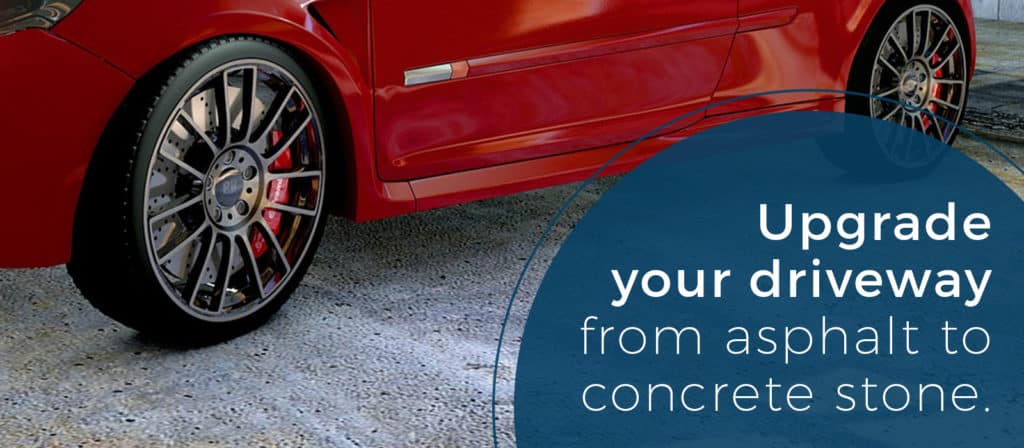 Unique Uses for Concrete
Concrete can be used in some ways you wouldn't immediately associate with this building material. Designers are getting very creative at exploring options for working with concrete and making the most of its properties. Here are some of the unconventional ways you might find concrete used: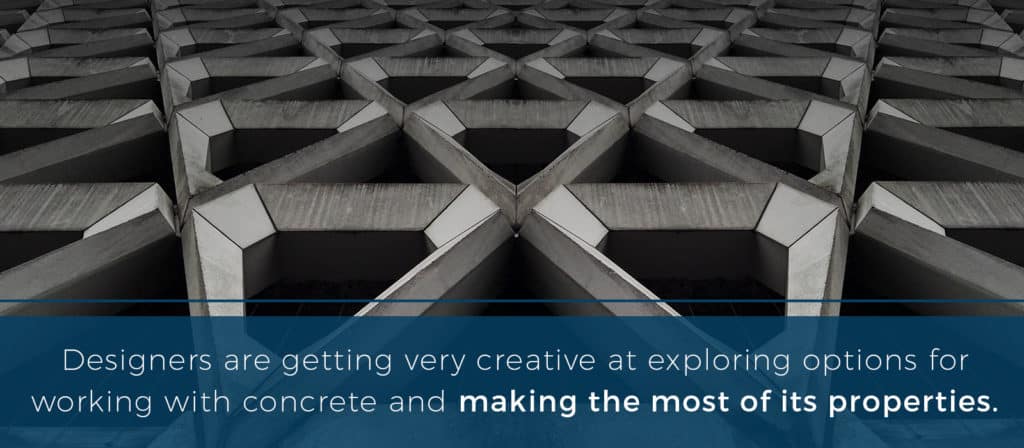 Floating docks
Precast concrete has been used to make floating dock systems. This material is a better option than wood since it will not succumb to the effects of being exposed to weather or water over time. The product is both easy to maintain and attractive to the eye.
Translucent panels for buildings
Concrete doesn't have to be thick and opaque. It can admit natural light during the day and transmit artificial light after dark. This design feature could be a source of energy savings when implemented.
Light-transmitting panels
Concrete panels that transmit light after dark can be used to make up a display screen for abstract patterns, letters or numbers. Each panel is operated independently, which gives operators the freedom to control the specific design as they wish. At dawn, the concrete returns to its usual appearance.
A Versatile Building Material That Spans the Ages
Concrete is a multi-purpose building material that is highly prized for its versatility and strength. It's no wonder it's still in use despite being discovered in ancient times. Modern technology continues to improve concrete as well, and there will be interesting developments to come.