The Best Concrete Delivery in the Mechanicsburg, PA Area
Whether the job is big or small, count on Marstellar Oil and Concrete for reliable, cheap concrete delivery to Mechanicsburg and throughout Cumberland County. Since 1998, we have been a partner for all of your home renovation needs, as well as for landscaping, construction and other commercial projects.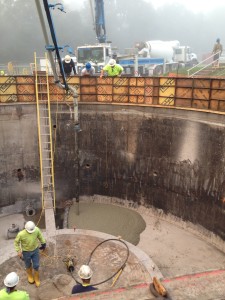 For expert service with a personal touch, contact our office today.
Delivery Area and Capabilities
Our fleet includes 25 mixing trucks with both front- and rear-discharge capabilities. As a top concrete contractor located near Mechanicsburg, Pa, delivery is available year-round. No matter what the weather brings, we can quickly dispatch your order to your location. In most cases, next-day concrete delivery is available.
In the past, we have provided ready mixed concrete delivery to Mechanicsburg homes, commercial facilities, educational centers and other projects. Whatever you require, we'll work with you to accommodate your schedule and any other related technical or logistical considerations.
We offer concrete delivery in Mechanicsburg as well as elsewhere in Cumberland, Perry, Dauphin, Juniata, northern York, southern Snyder, western Lebanon and western Lancaster counties. To find out if we serve you, give us a call!
Quality Concrete at a Price That's Right
Our two concrete production plants are fully automated to ensure an exceptional level of consistency and quality control is attained every time. We can create a product to your exact specifications, with a wide range of available mix designs and additives available. We can achieve specific characteristics, whether you require something that's easy to pour, high strength or possesses certain aesthetic qualities. If you're looking for a customized product that meets your specific needs, you've come to the right place.
Not sure what type of concrete your upcoming job requires? We can help. Call our office and let one of our expert team members review your requirements and provide strategic advice that gets the job done right the first time.
Your Partner Since 1998
Concrete is an essential part of many repair or construction projects, but it shouldn't break the bank. That's where we come in. We are a small company with the resources of a larger organization. We can help you find affordable solutions for any project.
Based in nearby Duncannon, the team at Marstellar Oil and Concrete has long roots in the Mechanicsburg area. We're proud to be your neighbor, celebrating with you on Jubilee Day and cheering on the Wildcats each fall. When you need concrete delivery to your home, you can count on us to serve you with all of the respect that entails.
We're an independent, locally owned business that has succeeded over the years due, in a large part, to the level of service we provide. To find out what we can do for you, contact our toll-free number for immediate assistance in your neck of the woods.