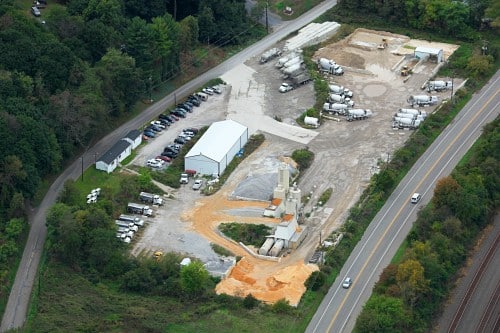 Marstellar Oil & Concrete is a small family owned and operated company located in Central Pennsylvania. The Marstellar's started Marstellar Oil in 1997 with one oil truck. We have since grown to operate nine oil trucks that deliver home heating oil to homes and businesses in Central PA. In 1998, Marstellar Concrete was started with one metered concrete truck. In 2000, Marstellar Concrete expanded to a full ready-mix concrete operation.
The Marsteller Difference
At Marstellar Oil and Concrete, we've chosen to service only Central PA, unlike other heating and concrete companies. Our choice comes from the family values that started our family's business in 1997. We wanted to build close relationships with the community and with our customers, all while providing affordable heating oil and, later, concrete.
More than 20 years later and we're still committed to those values.
Today, we provide affordable heating oil and concrete to five counties across Central PA. Our dual operations — of concrete delivery in the summer and heating oil delivery in the winter — keep our overhead costs low, so we pass those savings onto you.
Heating Oil for Central PA
We're committed to providing affordable home heating oil to everyone, which is why we pass our savings to you and accept Salvation Army, Low-Income Home Energy Assistance Program (LIHEAP) and other payment vouchers.
Transparency is important to us, which is why our costs are available online, 365 days a year. Our online order system makes reordering quick and straightforward.
Heating oil delivery companies often require a minimum of 100 gallons or more for delivery. But we understand the desire to keep your tank full during winter or to take advantage of reduced oil costs, which is why we deliver as little as 50 gallons.
Providing heating oil to Central PA allows us to provide quick delivery times of one to two days after you've placed your order.
Concrete Delivery for Central PA
Local and family-owned, Marstellar Oil and Concrete produces and delivers small- and large-batch concrete to businesses and homes throughout Central PA.
Our goals are simple: to provide unparalleled service and make a quality product. So, we create our concrete through an automated process at our two state-of-art plants to meet our quality and consistency standards.
We work one-on-one with you, whether for home or commercial projects, to create a concrete mix that meets your needs. Depending on your project, we use additives to influence your concrete's workability, shrinkage, permeability and strength.
Our fleet features 27 concrete mixers with front- and rear-discharge capabilities. We've used them in a variety of projects, including:
Education projects
Agricultural projects
Industrial projects
Commercial projects
Home renovations
Like our heating oil delivery service, we want to offer affordable prices. We provide low-cost concrete delivery for Central PA locations such as Harrisburg, and work with you to meet your project budget.
We sell high-quality heating oil and concrete throughout a large area of Central Pa. If you need home heating oil fast, or concrete delivered for your next project, fill out our quick and easy contact form. We pride ourselves in quick delivery and offering the best products to our customers!