The Leading Home Heating Oil Company in Central PA
Do you need heating oil in a hurry? Reach out to us today for fast delivery!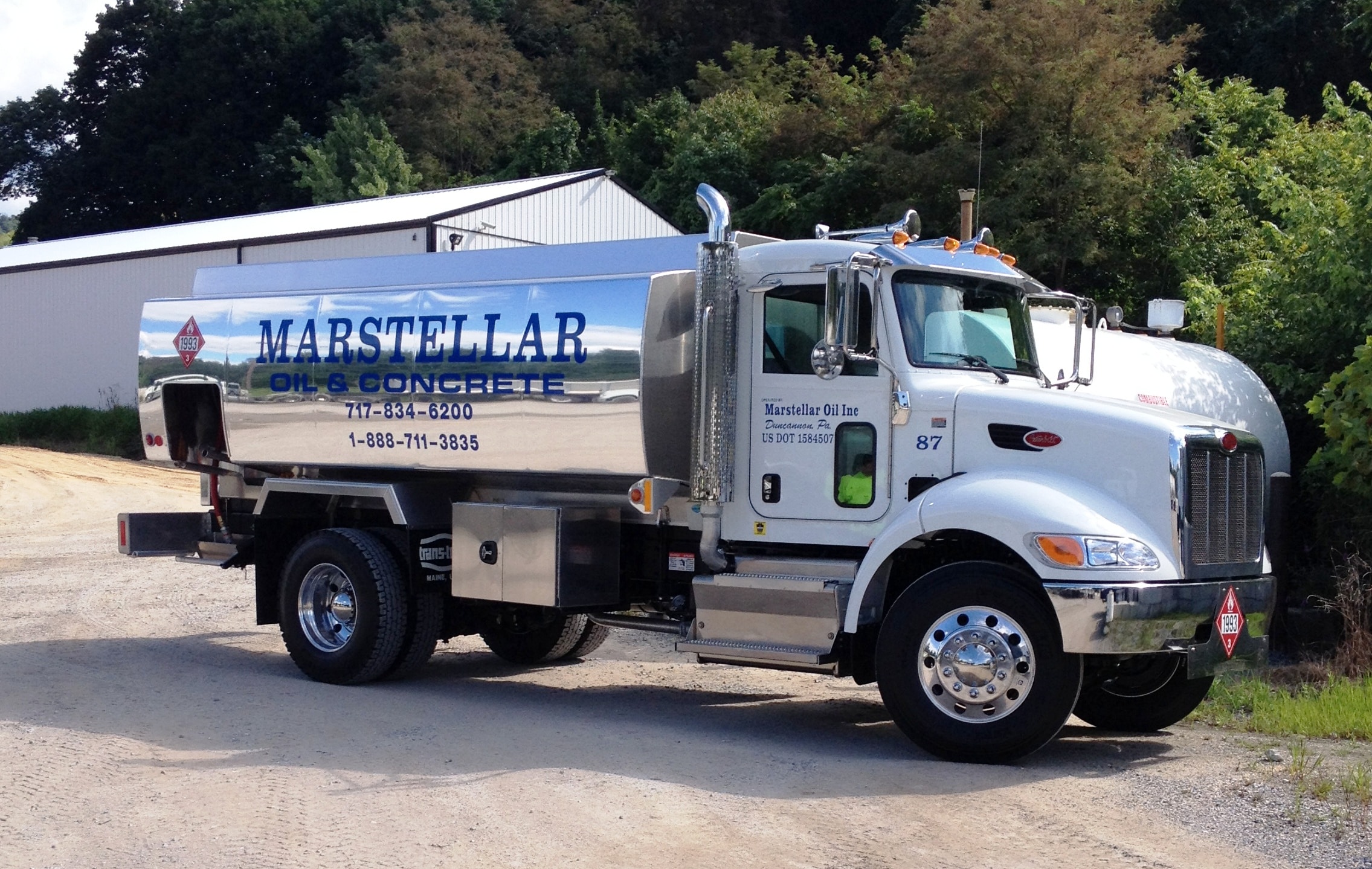 Estimates by the U.S. Energy Information Administration suggests that 18% of PA homes rely on fuel oil for heat during the long winter months. If you're one of them, you know how important it is to find a home heating oil supplier you can trust. In Central PA, the right home heating oil company can get you the fuel you need to stay warm, while helping you save considerably on your monthly energy bills.
Since 1997, Marstellar Oil and Concrete has been a dedicated heating oil supplier for Harrisburg and throughout Central PA. Our home heating oil company started small, with just one delivery truck. Since then, we've acquired one of the largest fleets in the region. When you choose us, you'll enjoy the many benefits only the leading home heating oil supplier in the Harrisburg PA region can provide!
As a locally owned heating oil provider that has been in business for 20 years, we have become intimately familiar with the needs of central Pennsylvania residents when it comes to heating oil. Over those years, we have been refining our service and the way we provide it to offer the perfect heating oil solution for homes in Harrisburg and surrounding areas.
Why Choose Marstellar Oil and Concrete as you Home Heating Oil supplier?
We know you've got your choice of heating oil companies in Harrisburg and throughout Central PA. Here's why Marstellar Oil and Concrete should be the heating oil company you choose:
Low prices — The cost of Pennsylvania heating oil can put pressure on your budget, and you don't want to have to skimp on the heating oil you and your family need to get through the winter because of price concerns. Compare our rates against the competition and see how much you can save. As a leading heating oil company in Pa, You'll find we offer some of the best prices in the Central PA region!
Small orders — Need just 50 gallons of heating oil? We can do it!Perhaps your home heating system doesn't have a particularly large fuel tank. Maybe you already have some oil and are just looking to top it off. Perhaps you want to save money by seeing how far a small amount of oil can take you. Whatever the reason, Marstellar Oil and Concrete can help.We don't need you to place a giant order for heating oil in Harrisburg or surrounding areas. Other home heating oil companies in the Harrisburg, PA region won't deliver an order that small, but we will. If you just want to top off your tank when prices are low, it's easy with Marstellar Oil and Concrete!
Excellent service — We're a locally focused, independent company dedicated to fuel oil delivery. We're determined to be the only source for heating oil in Pennsylvania that you'll ever want or need. That's why when you choose us, you enjoy the best in customer service.
Quick delivery — One of the big advantages of our being a local Harrisburg heating oil provider is that we can get your oil to you fast. We deliver on time, typically within two business days of receiving your order. Need home heating fuel in a rush? Take advantage of our same-day express service for just $49.
Easy ordering — Save time by using our online ordering and payment platform. Get up-to-the-minute pricing and around-the-clock ordering on our secure website for no extra charge!
These are just a few of the reasons we've grown into one of the most prominent home heating oil suppliers in Harrisburg and beyond. As a home heating oil company in Pa, on our team delivers dedicated service to Dauphin, Cumberland, Perry, Juniata and northern York counties.
A Valued Partner to Central PA Homes
Whatever your home heating oil needs, Marstellar Oil and Concrete will be there for you. We believe in putting customers first — that means offering great service in everything we do, respecting your time by making the order and delivery processes easy, and providing consistent low prices that allow you to heat your home without breaking the bank. We are pleased to accept Low Income Heating Oil Energy Assistance Program (LIHEAP) vouchers as well as other forms of payment assistance.
For as long as you live in central Pennsylvania, you're going to need heating oil every year. That's not going to change. What can change is how you get it. At Marstellar Oil and Concrete, we are looking to make customers for life. That's why we're determined to give you the best customer service and the easiest ordering, with oil prices to fit your budget. We're sure when you hire us to provide your heating oil in Pennsylvania, you'll learn to count on us to help keep your home warm year in and year out.
It's easy to test out a relationship that could take one big headache out of your life. Try ordering a small order online, and if you're happy, keep it going. Imagine what it will be like to have one less thing to worry about every winter season.
Get started by visiting our online ordering platform to check current rates and availability in your area. Have a question about any of our services? Call our toll-free hotline to speak with a representative directly.