The Best Heating Oil in the Harrisburg, PA Area
Marstellar Oil and Concrete has been helping heat areas homes since 1997. We understand that heating is a considerable expense, particularly during a long Central PA winter. That's why we strive to deliver an outstanding combination of value and service excellence for each of our customers.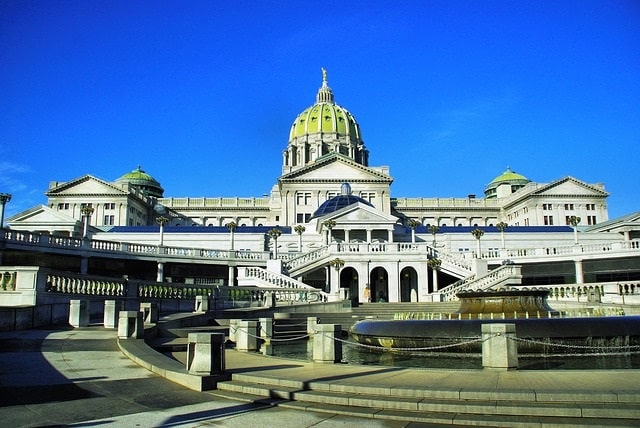 We know you have a choice in heating oil fuel in Harrisburg, which is why we strive to consistently raise the bar for everyone we do business with. Keep reading to learn more or contact our office directly with any questions you have about our service or our pricing.
Check Today's Heating Oil Prices
Harrisburg homeowners who rely on fuel oil to heat their homes know how important it is to take advantage of low pricing when it's available. Like all commodities, the price of home heating oil is determined largely by consumer demand. This is why, during the winter months when demand is high, prices rise.
Check our prices against local and national averages and you'll see the benefit of making Marstellar Oil and Concrete your source for heating oil in Harrisburg. Not only is our everyday pricing consistently lower than the competition, but we also let you place an order for as little as 50 gallons of fuel — perfect for topping-off your tank when rates are at their lowest.
Fast, Professional Delivery Throughout Harrisburg
Whether you live downtime, in the suburbs or outside of town, we'll work to get you the fuel you need as quickly as possible. Our fleet includes nine vehicles that can be dispatched to anywhere in the State Capitol region. We'll arrive on time, as promised and work quickly to minimize the disruption to your daily routine. In most cases, your order will be fulfilled in two days or less. Rush service is also available.
Best of all, our online ordering platform makes it easy to submit a request for service at any time, so you don't have to make time during regular business hours to call in. You can also pay online using any major credit card and avoid the hassle of having to keep cash or a check on hand for when our technician arrives.
Pay your bill in advance and we'll automatically refund any difference in pricing if you order more fuel than you need.
Save Money With Harrisburg's Heating Oil Experts
Marstellar Oil and Concrete has been providing heating oil for Harrisburg homes since 1997. In our more than 20 years of service, we've developed a reputation as the value leader when it comes to fuel delivery. Here's how we keep our prices low for all Harrisburg residents:
By limiting our delivery area to Harrisburg and Central PA, cutting down our overhead expenses
By keeping our fleet small and well-maintained, lowering our fuel, service and repair costs
By offering online ordering and bill payment, reducing our staffing needs and associated administrative fees
By offering concrete delivery during the summer months, so our team stays busy and we don't have to artificially inflate pricing during the winter to stay viable year-round
By partnering with LIHEAP and other needs-based assistance programs to offer cash grants for anyone whose household income falls below a certain threshold
These are just a few of the many ways we're delivering value everyday for Harrisburg residents. Keep reading to learn more about our services, or get in touch to request a delivery.
Heating Oil Info
Heating oil is the choice of an estimated 18% of Pennsylvania homes, according to the U.S. Energy Information Administration. It's an affordable, safe and efficient way of heating your home. When you choose home heating oil, you're choosing a fuel source that's:
Clean — Thanks to advances in refining technology, heating oil today is cleaner than ever before. When properly set up, oil heat systems generate close to zero emissions.
Efficient — Today's sophisticated furnaces can convert oil to heat with up to 95% efficiency.
Safe — Unlike natural gas, oil is non-flammable and non-explosive, making it safer for home use.
Stable — The majority of heating oil used in the United States is produced domestically. Prices are less vulnerable to international events.
Why Choose Marstellar Oil and Concrete?
Clearly, there are numerous benefits to heating your home with oil. In Harrisburg, Marstellar Oil and Concrete has been a dedicated supplier to area homes since 1997. When you make us your first choice all winter long, you enjoy:
Affordable pricing — Our rates are consistently lower than the competition, with discounts available for larger orders.
Online ordering — Place your order on our secure website for instant pricing and online payment capabilities. It's easy and convenient, and lets you schedule a delivery at any time!
Fast service — We keep our service area small, offering heating oil fuel to Harrisburg and Dauphin county, and surrounding areas. As a result, we can fulfill nearly any order within two days or less. Same-day service is available, too.
Low minimum orders — Need a small order? You can count on us! We deliver as few as 50 gallons of heating oil to Harrisburg homes. If you just need a quick top-off or want to take advantage of a good rate, there's no need to wait until you start running low.
Heating your home shouldn't break the bank. At the same time, you shouldn't have to deal with unreliable, unprofessional suppliers just to save a buck.
Marstellar Oil and Concrete combines low everyday prices with exceptional service that's easy and convenient. If you're looking for the best home heating oil supplier in Harrisburg, look no further!