Heating Oil in Central PA
Since 1997, Marstellar Oil and Concrete has been providing heating oil delivery to Harrisburg, York and throughout Central PA. Since our founding, we've gone out of our way to offer our customers a better experience, with affordable rates, convenient payment options and low minimum order amounts.
We are your dedicated partner all winter long. Next time you need a top-off of heating oil, contact us first.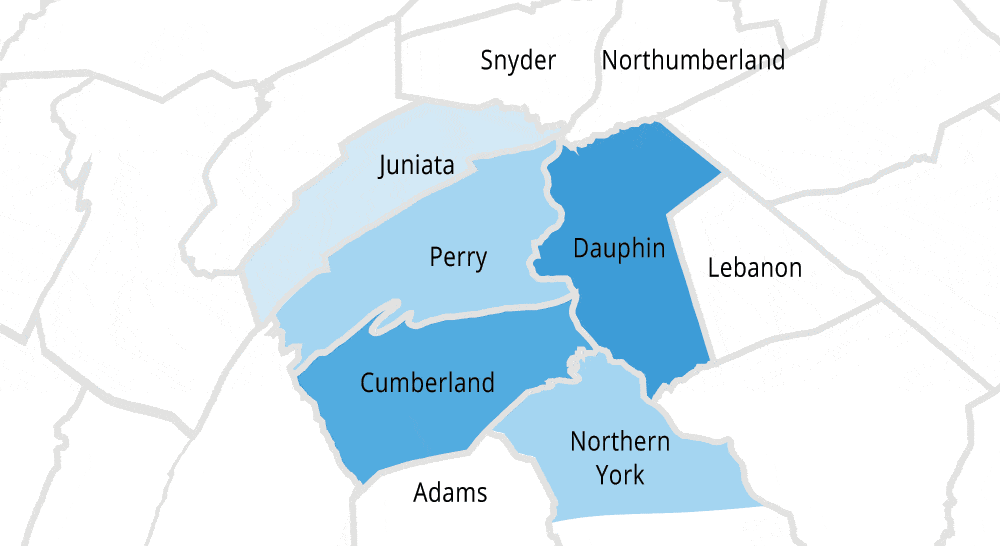 Our Heating Oil Service Area
Marstellar Oil and Concrete is one of the leading home heating oil delivery companies in Central PA. Our service area encompasses Dauphin, Cumberland, Perry and Juniata counties, as well as northern York — a diverse area that includes major population centers such as York, Camp Hill and Halifax, as well as more rural corners of the region. Make us your first call for heating oil in:
Dauphin County: We can provide heating oil delivery throughout Dauphin County, including Harrisburg, Hummelstown and beyond. Our low minimum order amount makes it easy to top-off your tank with as little as 50 gallons of fuel. Take advantage when prices are low and get the peace of mind of knowing you'll never be without fuel when you need it. To arrange a heating oil delivery to anywhere in Dauphin County, use our online order form or contact our office directly.
Perry County: Our Duncannon location makes us an ideal choice for heating oil delivery in Perry County. When cold weather rolls in, we understand the need for prompt service, particularly among homeowners outside major population centers. When you contact Marstellar Oil and Concrete to arrange a delivery, we'll get you the fuel you need, typically within two business days of receiving your order. That's a promise you can count on when it comes to staying warm and comfortable.
Cumberland County: In Camp Hill, Carlisle, Mechanicsburg and elsewhere in Cumberland County, homeowners turn to Marstellar Oil and Concrete for all their heating oil needs. We're proud to offer low prices and great service to everyone we do business with. Whether you live in town or in the suburbs, you can count on Marstellar Oil and Concrete for dedicated service and professionalism.
Juniata County: We're proud to include all of Juniata County in our heating oil delivery area. Homeowners in Mifflin, Mifflintown, Port Royal, McAlisterville and anywhere else in the region can schedule a delivery by phone or through our website. Our ordering process is streamlined to get your fuel to you faster. Our team will arrive on time, as promised, with the heating oil you need. You can even pre-pay online to avoid the hassle of keeping cash on hand. Typical delivery times to Juniata County are within two business days. Same-day service is also available for a small additional fee.
Northern York County: Marstellar Oil and Concrete offers heating oil delivery to residents of the city of York and the northern portion of York County. To find out if we offer delivery to your home, call or email our office directly. If you're within York city limits, simply place your order online at any time.
Unlike other heating oil providers, we've made the deliberate choice to limit our service area to Central PA. This helps us maintain a low overhead and pass the savings on to you. It also gives us the opportunity to develop close relationships with everyone we serve. Let us get to know your heating needs and be your long-term partner for fuel delivery.
No matter where you live — whether you live in downtown Harrisburg or one of the area's more rural corners — we can get your order to you in a fast and efficient manner. In fact, we can fulfill almost any order within two business days of receiving it.
In danger of running out and need heating oil delivery fast? Same-day express service is available for a small additional fee. Contact our office or place your order online for more information.
Our Fleet                                                                                   
Our company was founded in 1997 with just a single fuel delivery truck to serve Dauphin County. Since then, we've grown considerably. Now, a fleet of nine vehicles offers service throughout the Central PA region.
As we've grown, however, we've taken great care to not compromise the quality of service we offer our clients. That's why we don't deliver heating oil outside the Central PA area — any further afield would lead to longer wait times and higher prices for our customers.
One additional advantage of limiting heating oil delivery to Cumberland, York and nearby counties is that we have a minimum order amount of just 50 gallons. Unlike other companies, whose high transportation costs make this impossible, we offer you the option of topping off your tank when prices are low, even if you only need a small amount of fuel.
Place Your Order Online Today
No matter where you are in our service area, you can take advantage of our online ordering platform to schedule heating oil delivery. In Juniata County, Dauphin County and beyond, placing an order is as easy as checking your email. Visit our secure online portal to view prices in your area and even pay for your fuel in advance using any major credit card.
With Marstellar Oil and Concrete, Central PA homeowners have a smarter, more cost-effective choice in home heating oil delivery. We are a locally focused, independently owned business that is committed to doing more for everyone we do business with. Check us out the next time you need heating oil delivery in Camp Hill, Harrisburg or beyond.